ECOUTEUR TTESPORT ISURUS PRO BLACK

l'ISURUS PRO est professionnellement conçu pour les joueurs professionnels et mettant en vedette le premier microphone détachable du monde

La nouvelle génération de casque de jeu ISURUS, l'ISURUS PRO est professionnellement conçu pour les joueurs professionnels et mettant en vedette le premier microphone détachable du monde. Le ISURUS PRO offre une communication claire entre les joueurs pendant le jeu intense en ajustant le microph
>> Lire plus

COMMENTAIRES RÉCENTS:

Abderrahmene Laourit: Trés bon écouteurs, je suis un joueurs Cs et je suis choqué par la qualité audio de ce produit, j'arrive a entendre trés trés bien chaque bruit d'ennemis et ainsi connaitre leurs position exact, même pour écouter de la musique ou regarder un film, vous n'aller pas être déçu de la qualité audio, et en plus il sont fournis avec une pochette de transport trés bien faite, pour ce prix là que demander de plus !

SHOW ALL

Rating:

COMMENTAIRE
WORLD'S FIRST IN-EAR DETACHABLE MICROPHONE HEADSET

Lightweight stainless steel detachable microphone design that offers a clearer voice communication and enhances phone call control by adjusting the microphone to ensure you have a perfect fit. You can use the microphone while in gameplay with friends or remove the microphone for music enjoyment!



UNIQUE EARBUD DESIGN

The ISURUS PRO features a honeycomb cutout brushed shell design with the Tt eSPORTS's battle dragon logo. This design is inspired by our LEVEL 10 line that makes the earbuds standout at any gaming event!



DUAL MICROPHONES

Consist a dual microphones design where you can choose either to speak through the inline microphone or via the detachable microphone. If you do not want to use the detachable microphone, you are always able to speak via the in-line microphone!
QUALITY COMPONENTS
ISURUS PRO offers you the best sound quality and is perfect for all gamers. You can listen to music, watch movies or use it with your phone to communicate with friends. It is the perfect headset for you with premium audio technology and an exception design!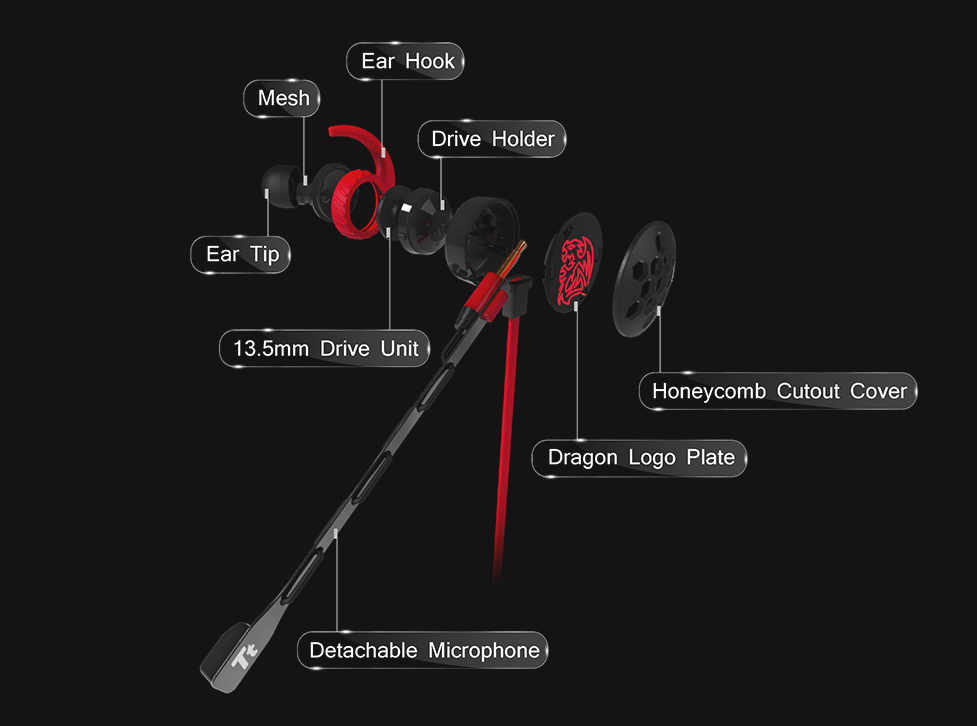 INLINE 3-BUTTON REMOTE

Never stop playing! Change your music on-the-fly with the 3 button in-line remote (previous, next, play & pause button) with integrated microphone, allowing you to answer your calls and control the music with just the push of a button. ISURUS PRO is the perfect headset when you are on the move or in a gameplay!

More information on HOW TO OPERATE THE INLINE REMOTE:
TANGLE-FREE FLAT CABLE

ISURUS PRO consist with tangle-free flat cables, so say goodbye to those frustrating cable tangles and have fun with the great designed for functionality and enjoy your game and music every day!




SECURE FIT SYSTEM

Designed to nestle in the ear without entering your ear canal, the ISURUS PRO spreads contact equally across the ear for supreme coziness and forms a cap that gives the headphones a full-spectrum of noise reduction!



POWERFUL 13.5MM NEODYMIUM DRIVER

Deliver unbeatable in-ear audio, with natural high-reliability, crisp trebles and powerful bass - allowing you to hear and retain your daily soundtracks perfect and experience the true gaming atmosphere! Whatever your mood you have for the day, just immerse yourself in the best quality of sound!




3 SIZES EAR SLEEVES

ISURUS PRO comes with 3 sizes of silicone sleeves where you can choose the pair that best fits you naturally. These awesome washable, soft silicone sleeves were designed to provide comfort in your ear canals for long hours of use!